PRIMERS & PAINT CORRECTION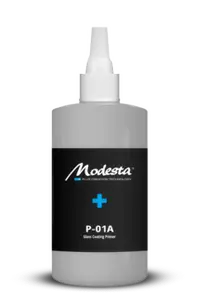 P-01A - Primer / Finishing Polish
P-01A is a highly advanced unique primer used for Modesta liquid glass coatings. It contains a blend of high quality resins and additives capable of producing up to 10 microns on top of the paint. It can also be used as a finishing polish adding gloss and depth to the paint.
More details about P-01A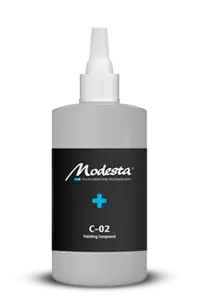 C-02 - Polishing Compound
A light and gentle yet at the same time aggressive cut combined in one product. This all-in-one compound was designed especially for sensitive paints. The C-02 is capable of delivering heavy duty cut as well as a state of the art finish on common but also on the most special and exotic paints.
More details about C-02
INTERIOR & EXTERIOR PROTECTION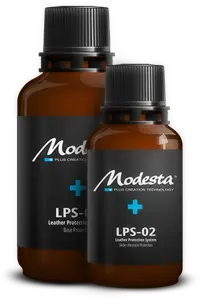 LPS - Leather Protection System
The Modesta Leather Protection System delivers exceptional protection to all leather and leather like surfaces in interiors of motor vehicles. This two component system is the only in the market that protects the precious surfaces from both - penetration by liquids and dirt as well as abrasion.
More details about LPS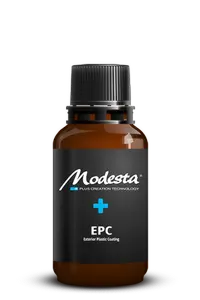 EPC - Exterior Plastic Coating
The Modesta Exterior Plastic Coating is a unique blend of ingredients restoring uncoated exterior plastic parts of automobiles and other vehicles, by adding saturation and color depth. On weathered plastic parts with faded color, it will restore the original look and feel of the surface. At the same time, it will add protection against UV radiation and oxidation, thus prolonging the longevity of the material.
More details about EPC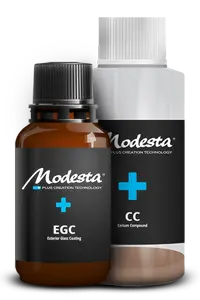 EGC - Exterior Glass Coating
A carefully formulated blend of silica resins, that add a microscopic hydrophobic layer on the surface of exterior glass of motor vehicles, which improves the visibility while driving through rain and helps in keeping the windscreen clean by inhibiting adhesion of insects, grime and other dirt to the glass. The hydrophobic characteristics of the coating also aid in removal of ice and snow in winter weather.
More details about EGC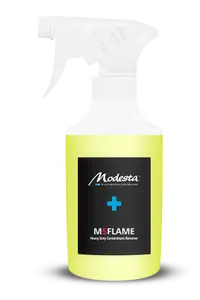 M5FLAME - Heavy Duty Contamination Remover
Highly concentrated liquid effective in removing heavy contaminants like water spots, tree sap, iron deposits, tar and many others from the surfaces of coated and non-coated vehicles. Quick and easy to use, wipes off without leaving and streaks or residue.
More details about M5FLAME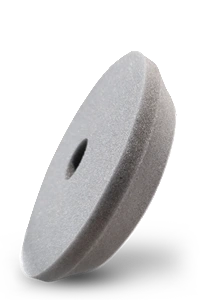 P-G-125 - Grey Open Cell Pad 125mm
An open cell soft foam pad for light cutting and finishing stages in 125mm diameter.
More details about P-G-125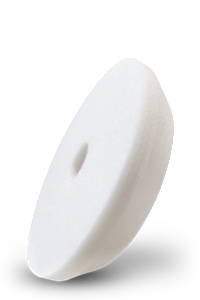 P-W-125 - White Closed Cell Pad 125mm
A closed cell ultra soft finishing pad for final finishing of most delicate automotive paints in 125mm diameter.
More details about P-W-125