Wet Application Conditioner
M4 SMOKE contains a unique blend of surfactants and polymers, providing the product with unique properties. It is a wet application conditioner for regular maintenance of Modesta coatings, designed to clean the nano-scale structure of a coating layer. The polymers in the product utilize the so-called PoPPR (Polymer on Polymer Pollution Removal) - an approach comparable to how contact lenses cleaning solutions work.

Unlike competitive products, M4 does not add hydrophobicity to a surface and is unique in the detailing industry.

Easy to use, it is the perfect day-to-day coating conditioner used during washing.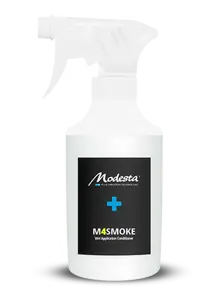 Product type: Maintenance