Exterior Glass Coating
This product is only available for authorized installers.
A carefully formulated blend of silica resins, that add a microscopic hydrophobic layer on the surface of exterior glass of motor vehicles, which improves the visibility while driving through rain and helps in keeping the windscreen clean by inhibiting adhesion of insects, grime and other dirt to the glass.

The hydrophobic characteristics of the coating also aid in removal of ice and snow in winter weather.  The kit contains 30ml of the coating itself, which should be enough for the treatment of all windows and both side mirrors on two average size vehicles. The kit further contains 15g of highest grade instant cerium oxide powder, prepared with suspension agents and emulsifiers, which is used as a abrasive deep cleaning agent before application of the coating itself. The powder comes in a 80ml bottle and is ready to be used after adding 50ml of water a shaking well.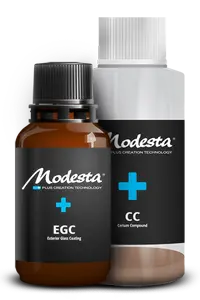 Hazard symbols: