Pure Glass Coating
This product is only available for authorized installers.
Eliminating the risk of scratches should not the only objective in protecting automotive paints. A major cause of paint damages, such as loss of gloss and dullness is paint oxidation. This process can be slowed by isolating the paint surface from the air. Although this can be achieved with conventional coating agents and wax, the oils and fats contained in such materials oxidize easily, and in turn oxidize anything they come into contact with. Once oxidized, these paint protection agents can often accelerate the degradation of paint rather than protect it.

The inorganic nature of the BC-03 glass coating makes it fully resistant to oxidation and therefore more suitable for protecting paint. The hard physical barrier it creates also prevents paint from coming into contact with the air and acts as a strong antiscratch protectant.

Modesta BC-03 does not crack, bubble, flake, peel, delaminate, detach or discolor at temperatures up to 700 °C. This new formula combines pure liquid glass and titanium dioxide for extra shine without affecting durability. It contains 0.16μm particles of titanium dioxide that reflect light with specific wavelengths, producing an instant luminous shine and gloss. Titanium dioxide is sensitive to photocatalyzation and produces traces of active oxygen when exposed to UV rays. This effect helps the coating to prevent the attachment of contaminants to the paint.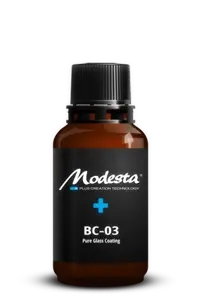 Product properties rating
Hazard symbols: