Hybrid Titanium / Glass Coating
This product is only available for authorized installers.
Modesta BC-02 is a glass coating liquid containing titanium dioxide, whose photocatalysis blocks ultraviolet rays and prevents impurities from sticking to the paint.

It's blend of ingredients generates a hard membrane with strong water-repellent properties that protects the paint surface from dirt, acid, UV rays and scratches for up to three years.
This product is not available in the following countries: Slovakia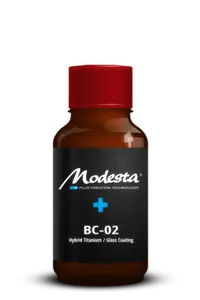 Product properties rating
Hazard symbols: